Water's role in healthy environments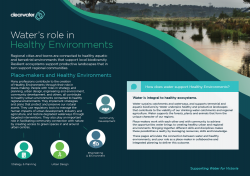 18/08/2017
Many professions contribute to the creation of Healthy Environments through their role in place-making. People with roles in strategy and planning, urban design, engineering and environment, community development, and others, all contribute to healthy urban environments connected to healthy regional environments.
They implement strategies and plans that protect and preserve our natural assets. They use regulatory tools to manage the human impacts of urban development, industry and agriculture, and restore degraded waterways through targeted interventions. They also play an important role in facilitating community connection with nature by creating access to green spaces in and around urban centres.
This fact sheet articulates the connection between water and healthy environments, and your role as a place-maker in collaborative and integrated planning to deliver this outcome.