Water's role in healthy communities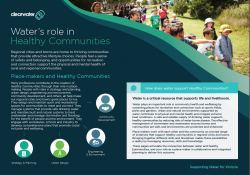 18/08/2017
Many professions contribute to the creation of Healthy Communities through their role in placemaking. People with roles in strategy and planning, urban design, engineering and environment, community development, and others, all help make our regional cities and towns great places to live.
They design and maintain sport and recreational spaces for communities to meet and connect. They manage systems that provide safe drinking water and maintain built and natural systems to treat wastewater and manage stormwater and flooding, for the benefit of people and the environment. They engage with workplaces, schools and industry to develop comprehensive plans that promote social inclusion and wellbeing.
This fact sheet articulates the connection between water and healthy communities, and your role as a place-maker in collaborative and integrated planning to deliver this outcome.