Sustainable strategies to treat urban runoff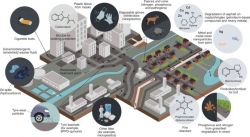 03/03/2022
In cities across the world, sprawling urban and suburban development has increased the area of impervious surfaces i.e. roads, rooftops, parking lots, sidewalks and driveways.
A journal published by Nature Sustainability for sustainable strategies to treat urban runoff by Mathieu Lapointe, Chelsea M. Rochman & Nathalie Tufenkji looks into how most cities lack holistic monitoring and green infrastructure to mitigate pollution in urban runoff. It called for systematic characterization of runoff and more widespread treatment to protect biodiversity and human health. This challenge requires data-driven, adapted, low-cost and sustainable solutions for dense urban centres.
Cities have limited resources available for stormwater management, with certain flexibility cities should be able to implement locally adapted, realistic, sustainable and low-cost processes. This will maximize the cost-effectiveness of existing and future green infrastructures and will reduce the risk of acute toxicity in natural waters.
Read more The Journal