DELWP IWM Forums Co-funded IWM projects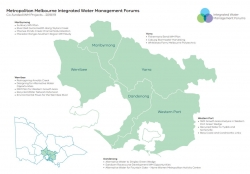 03/10/2019
The Integrated Water Management Forums were established in 2017 across the state to identify, prioritise and oversee the implementation of collaborative water opportunities.
In 2018, each of the Forums produced Strategic Directions Statements that capture their regional context, shared vision and water-related outcomes for each of the Forum areas across metropolitan Melbourne and regional Victoria.
Building on this foundational work, this year the Victorian Government invested $4 million to support 18 IWM projects in metropolitan Melbourne and 50 IWM projects in regional Victoria, that will improve regional water security, enhance waterway and landscape health, and build greater community connections to the environment.
To see the list of funded projects, view the links below:
To learn more about the forums visit the DELWP website.