Yea wetlands creating a bridge between cultures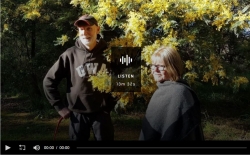 13/04/2020
This ABC radio interview explores how a country town wetland is connecting residents with indigenous knowledge past and present and creating an environmental and cultural legacy for the future.
ABC journalist Fiona Gruber went to Yea in central Victoria, where an award-winning wetlands and water discovery centre have reimagined a pre-colonial landscape, creating a community resource and a bridge between cultures.
The wetland fed by water from Yea River is a conservation haven for native fauna and flora cared for by community and Indigenous custodians.