City of Yarra Permeable Pavement Pilot Projects - Site Tour presentation Oct 2022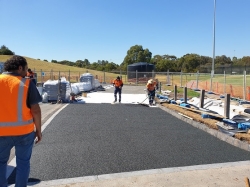 06/10/2022
Presentation given by Damien D'Aspromonte & Sainath Tavate from City of Yarra at the permeable pavement pilot project site visit organised by Clearwater on 6 October 2022.
Permeable Pavement sites visited were Ramsden Oval car park and Rutland St in Clifton Hill. The pavement is made from around 70% recycled tyres and thereby diverts a sizeable waste item from landfill. The pavement is designed to to improve stormwater quality and reduce pollutants before stormwater enters the downstream waterways. It also reduces potential impacts of urban flooding and recharges the moisture content of the soil beneath.
These projects are part of a trial developed by Melbourne University in collaboration with Yarra City Council and funded through Sustainability Victoria's Sustainable Infrastructure Fund. Trial sites will be monitored to test the water quality improvements, the efficiency of rainwater and durability of permeability and infiltration rate, and the impacts on ground movement. The Ramsden St pavement is anticipated to treat over .29 ML/ per year.