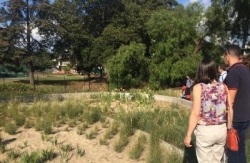 Construction Hold Points Training - Bio-retention Systems & Wetlands
Online - Zoom

Registrations are now closed
*Dedicated delivered to your organisation for groups of 20+
Clearwater's in-house training provides your staff and contractors with a tailored and interactive learning experience. Our trainers are experts in their field and bring a wealth of knowledge and experience.
Clearwater and Melbourne Water's Living Rivers Program have developed the Construction Hold Points training to build in-house knowledge, confidence and skill to ensure all parties understand the key construction hold points required for bio-retention systems and wetlands. Hold points are defined as the point in time where work must cease until all tasks have been checked, completed, approved and signed off by all parties.
This training aims to improve theoretical and practical understanding to ensure WSUD assets are constructed as designed and fully-functional to accept at handover.
Each session is designed to:
Introduce the basic concepts of Water Sensitive Urban Design (WSUD) and Integrated Water Management (IWM)
Build knowledge of common bioretention and wetland construction risks and how to avoid them
Teach participants the critical hold-points to assess that assets are being constructed as designed
Highlight actions to streamline the design-construction-handover process, with focus on roles and responsibilities
Provide practical learning through audio-visual footage of real hold point inspection visits
Build organisational capacity, collaboration and commitment on the topic
Identify and drive further action to improve processes and address priority issues
Tailored components
Each session incorporates a number of tailored components enabling you to communicate your organisation's strategies and plans to build awareness and buy-in. In particular, the closing facilitated discussion with action planning activities encourages staff feedback and discussion on current WSUD asset construction issues. This final session will support your organisation to identify what is required to develop ongoing commitment for embedded construction hold point procedures.
Audience:
This training is ideal for all local government staff and their contractors who are responsible for bioretention and wetland construction management, site inspection, project management and hand-over sign off. It is also relevant for staff building organisation support for WSUD and for bioretention and wetlands design engineers.
Clearwater encourages professionals working in the following areas to attend:
stormwater management (including those overseeing project funding and grants)
waterway & catchment management
water / waste water / drainage infrastructure management
project and construction management
Note: We recommend 15 to 20 participants per session.
Session Options:
We currently offer three delivery options:
Module A – Construction Hold Points Bioretention: 3.5hrs (Suggested schedule 9am – 12.30pm)
Module B – Construction Hold Points Wetlands: 3.5hrs (Suggested schedule 9am – 12.30pm)
Module A + B – Construction Hold Points for Bioretention and Wetlands: 6hrs (Suggested schedule 9.30am – 3.30pm)
Session Scope:

The above image depicts which project phases will be covered in this training. Design, operation and maintenance should be considered when constructing new WSUD assets, however it will not be the focus of this training. Click here to find out more about Clearwater's Maintenance of WSUD Assets Technical Training
Cost
Costs are based on Clearwater delivering the session in-house to a group of 15-20 participants in Melbourne's Metropolitan Area.

Timeframes:
To allow enough time to successfully plan your session we require at least 6 weeks between the training agreement sign-off and the delivery of the training course.
Pre-requisites:
Due to the technical content of this workshop, participants should have a basic understanding of WSUD principles and different types of stormwater treatment technologies.
Workshop presenters:
Alexandra Brown - Spiire
Jamie Comley - J Comley Consulting
Next steps: